Welcome to Sugartown
by Carmen Jenner

Synopsis: Ana Belle never wanted anything more than to hang up her apron, jump on her Vespa and ride off into the sunset, leaving Sugartown in the dust.
Elijah Cade never wanted anything more than a hot meal, a side of hot arse and a soft place to lay his head at night where he could forget about his past.
But you know what they say about wanting: you always want what you can't have.
Nineteen year-old virgin Ana is about to discover that's not quite true because a six foot three, hotter than hell, tattooed, Aussie sex god just rode into town. He's had a taste of her pie and he wants more– no really, Ana bakes pies for a living, get your mind out of the gutter.
She'd be willing to hand over everything tied up in a big red bow, there's just one problem; Elijah has secrets dirtier than last week's underwear. Secrets that won't just break Ana's heart, but put her life at risk, too. When those secrets come to light, their relationship is pushed to breaking point.
Add to that a psychotic nympho best friend, an overbearing father, a cuter than humanly possible kid brother, a wanton womanizing cousin, the ex from hell, and more pies than you could poke a ... err ... stick ... at. And you thought small towns were boring. Welcome to Sugartown.
~ . ~
First Grave on the Right
by Darynda Jones

Synopsis: Charley Davidson is a part-time private investigator and full-time grim reaper. Meaning, she sees dead people. Really. And it's her job to convince them to "go into the light." But when these very dead people have died under less than ideal circumstances (like murder), sometimes they want Charley to bring the bad guys to justice. Complicating matters are the intensely hot dreams she's been having about an entity who has been following her all her life...and it turns out he might not be dead after all. In fact, he might be something else entirely. But what does he want with Charley? And why can't she seem to resist him? And what does she have to lose by giving in?
With scorching-hot tension and high-octane humor, First Grave on the Right is your signpost to paranormal suspense of the highest order.
~ . ~
Lifers
by Jane Harvey-Berrick

Synopsis: After eight years in prison, twenty-four year old Jordan Kane is the man everyone loves to hate.
Forced to return to his hometown while on parole, Jordan soon learns that this small town hasn't changed since he was carted off to juvie all those years ago. He is the local pariah, shunned by everyone, including his own parents. But their hatred of him doesn't even come close to the loathing he feels every time he looks in the mirror.
Working odd jobs for the preacher lady, Jordan bides his time before he can leave this backwards town. But can distance erase the memories that haunt him? Trapped in the prison of his own mind Jordan wonders if the pain of living will ever subside?
Torrey Delaney is new in town and certainly doesn't behave in a way the locals believe a preacher's daughter should. Her reputation for casual hook-ups and meaningless sex is the talk of the town. Add that to her budding friendship with the hardened ex-con handyman, and the good Reverend is less than thrilled with her estranged daughter's path.
As friendship forms, is it possible for two damaged people who are afraid to love take their relationship to the next level? Can Torrey live with Jordan's demons, and can Jordan break through Torrey's walls? With the disapproval of a small town weighing heavily on them, will they find their place in the world? Can they struggle against the odds, or will their world be viciously shattered?
Is love a life sentence?
~ . ~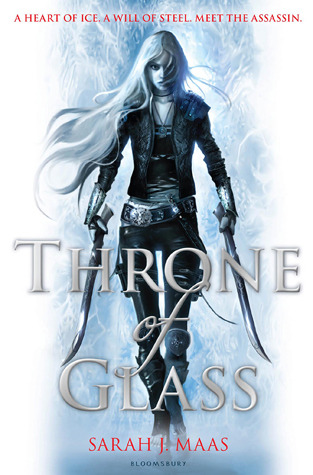 Throne of Glass
by Sarah J. Maas

Synopsis: Meet Celaena Sardothien. Beautiful. Deadly. Destined for greatness.
In the dark, filthy salt mines of Endovier, an eighteen-year-old girl is serving a life sentence. She is a trained assassin, the best of her kind, but she made a fatal mistake: she got caught.
Young Captain Westfall offers her a deal: her freedom in return for one huge sacrifice. Celaena must represent the prince in a to-the-death tournament—fighting the most gifted thieves and assassins in the land. Live or die, Celaena will be free. Win or lose, she is about to discover her true destiny. But will her assassin's heart be melted?
Is love a life sentence?
~ . ~
Acid
by Emma Pass

Synopsis: The year is 2113. In Jenna Strong's world, ACID—the most brutal controlling police force in history—rule supreme. No throwaway comment or whispered dissent goes unnoticed—or unpunished. And it was ACID agents who locked Jenna away for life, for a horrendous crime she struggles to remember. But Jenna's violent prison time has taught her how to survive by any means necessary.
When a mysterious rebel group breaks her out, she must use her strength, speed, and skill to stay one step ahead of ACID, and try to uncover the truth about what really happened on that terrible night two years ago. They have taken her life, her freedom, and her true memories away from her. How can she reclaim anything when she doesn't know who to trust?
Strong, gritty writing, irresistible psychological suspense, and action consume the novel as Jenna struggles to survive against the all-controlling ACID. Seriously sinister stuff.
~ . ~
Perdition
by Ann Aguirre

Synopsis: The prison ship Perdition, a floating city where the Conglomerate's most dangerous criminals are confined for life, orbits endlessly around a barren asteroid.
Life inside is even more bleak. Hailed as the Dread Queen, inmate Dresdemona "Dred" Devos controls one of Perdition's six territories, bordered on both sides by would-be kings eager to challenge her claim. Keeping them at bay requires constant vigilance, as well as a steady influx of new recruits to replace the fallen. Survival is a constant battle, and death is the only escape.
Of the newest convicts, only one is worth Dred's attention. The mercenary Jael, with his deadly gaze and attitude, may be the most dangerous criminal onboard. His combat skill could give her the edge she needs, if he doesn't betray her first. Unfortunately, that's what he does best. Winning Jael's allegiance will be a challenge, but failure could be worse than death…
~ . ~
Ex Convict
by Ashley Beale

Synopsis: Hope Manson ruled her school senior year. When a girl in her class, Jenny, spreads a rumor about Hope, an attempt of getting even ends with Jenny dead and Hope in prison for man-slaughter. Six years later, she is let out with one goal in mind- to make a difference.
A difference for Jenny.
Hope will be anything but selfish.
Wes Styles is an asshole.
He is controlling, self obsessed, and just plain mean.
And Hope likes it. She wants someone to treat her like dirt, as a reminder of what she did.
Plus, if someone treats her like shit, she can't fall in love- right? Because falling in love is the most selfish thing you can do.
Wes Styles loves women. He loves when they're calling his name, making him come, or digging nails into his back. But he does not fall in love with women.
When Wes meets Hope, he is immediately intrigued by the fact she likes being treated like nothing more than a piece of ass. And he knows she is holding a dark secret.
But he doesn't want to know what this secret is, because when he finds out the truth, he may leave. And for the first time in his life, he doesn't want to.
~ . ~
Ravage Me
by Ryan Michele

Synopsis: After spending the last two years stuck behind bars for a crime she didn't commit, Harlow 'Princess' Gavelson's time inside has finally come to an end, and she's ready for revenge. Unfortunately, being the daughter to the Vice President of the Ravage Motorcycle Club cuts into her plans, as orders must be followed. Trying to settle back into this life is proving difficult when the tables are turned and the woman who framed her is out for blood. Lucky for Princess, growing up in a MC has taught her how to hold her own.
After spending years in hell overseas, Donavon 'Cruz' came home to lose the very thing he went into hell for, sending him to the darkest moments of his life. Joining Ravage two years ago was his safe haven, and he protects his family at all costs.
When a dark-haired bombshell struts into the club's shop, he's caught off guard but immediately knows she's the one he'd do anything for. Tough as nails, and taking no crap from anyone, he's captivated by a woman who could handle this life. Trying to meet the needs of the MC business and follow his heart proves to be difficult when the two collide, and lives are at stake.
Can these two find a way to be together, or will the needs of Ravage cost them everything, including their lives?