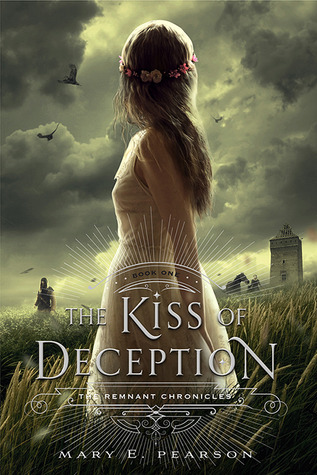 Series:
The Remnant Chronicles #1
Publish:
July 8th 2014 by Henry Holt
Format:
ebook, 492 pages
Rating:
5 / 3.5
Synopsis: In this timeless new trilogy about love and sacrifice, a princess must find her place in a reborn world.
In a society steeped in tradition, Princess Lia's life follows a preordained course. As First Daughter, she is expected to have the revered gift of sight—but she doesn't—and she knows her parents are perpetrating a sham when they arrange her marriage to secure an alliance with a neighboring kingdom—to a prince she has never met.
On the morning of her wedding, Lia flees to a distant village. She settles into a new life, hopeful when two mysterious and handsome strangers arrive—and unaware that one is the jilted prince and the other an assassin sent to kill her. Deception abounds, and Lia finds herself on the brink of unlocking perilous secrets—even as she finds herself falling in love.
Review:
I would start with that there are a couple of spoiler in the review. Not major ones but those who don't like any kind of reveal, do not read it.It's really rare that I would write a spoiler infested review, but in this case I felt it vital to write down exactly what's my problem with the book.
I usually love these kind of stories, that's why this book is a huge dissapointment for me. It has everything that it needs, but there are a lot of little detail I didn't like. It spoiled the experience for me.
I can separate the story in two part alonga really distinct line.The first two-third of the book is simply horrible (sorry but that's my opinion). Ther was quite a few time when I considered to stop reading it, especially when I realized how long it is.Why I didn't kile it?
My biggest problem is Lia personality and actionsIn my opinion, she's a really selfish and spoiled character at least in the first part of the book. She rans away, because she don't want to live in an arranged marriage. However she doesn't even considers the impact of her actions on her kingdom and other people lifes. Especially on her subjects since her marriage would stop a war. Despite her irresponsibility, as soon as she sees the soliders behavior outside of the city walls, she starts to blame and criticize her father, and his way of ruling. Typical the pot calls the kettle black. I don't like how she acts and says that she can work like anybody else, but then whe she really has to do some hard work she complains about it through pages. Maybe a little bit too much!? In addition to this she treats people like she's still in the castle an they can't do anything she doesn't like. Her 'I ran away from my wedding and with that, my responsibilities' stunt is really chilidsh and selfish step from Lia part, mainly because of her reasons. She wants to get everything without responsibilities. And there is only two character who tells her, what she did was wrong. This sums up my problems with the book, Lia's whining without an end.
Fortunately, there is a huge twist in the story, where Lia miraculously grows up and the plot thickens. From this point I love it and this twist saves the whole storyline. After the turning point it's exciting and adventurous and even Lia power starts to reveal itself. But honestly this part is still unclear for me.
The story is narrated by three different people Lia, the prince and the assassin. In the beginning of every chapter the reader can see whom point of view you're reading, but in the two boys case sometimes they mentioned by name sometimes by their profession. It can be confusing. This aspect of the book's simply ingeniously written, until this part I couldn't decide which name belonged to wich boy. It's a really good surpries and I like the outcome. Oh, and I'm really relieved that there isn't a love triangle, despite what the synopsis suggested. I hate those.
I have a little problem with the descriptions, some of them is to detailed, mostly in case of the sceneries but a couple of object, too. It wouldn't be too much of a problem if a few page later there wouldn't be a repetition of it with different words. I think it's unnecessary.
In my opinion, the world is a little superficial, half-baked. I want to know more about it. There're a lot of thing the writer mentiond in the story but didn't exploited it. For example the little nursery rhymes, which is a constant element ofthe storyline. There is still a lot of possibility in the plot and I hope in the next book they will be used more effectively.
All in all, if you can get through the first two-third of the book, you get an interesting and phenomenal fantasy. I don't a bit that I read it. And it ends with a cliffhanger, seriously when is the next book. Pleaseee! I really looking forward to it.