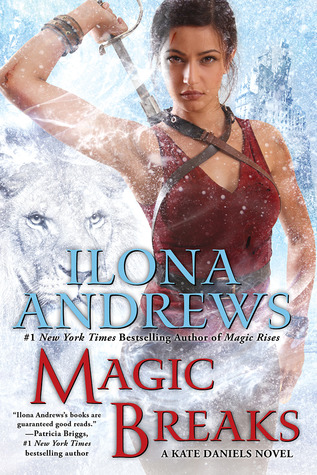 Series:
Kate Daniels #7
Publish:
July 29th 2014 by Ace
Format:
ebook, 400 pages
Rating:
5 / 4.5
Synopsis: As the mate of the Beast Lord, Curran, former mercenary Kate Daniels has more responsibilities than it seems possible to juggle. Not only is she still struggling to keep her investigative business afloat, she must now deal with the affairs of the pack, including preparing her people for attack from Roland, a cruel ancient being with god-like powers. Since Kate's connection to Roland has come out into the open, no one is safe—especially those closest to Kate.
As Roland's long shadow looms ever nearer, Kate is called to attend the Conclave, a gathering of the leaders from the various supernatural factions in Atlanta. When one of the Masters of the Dead is found murdered there, apparently at the hands of a shapeshifter, Kate is given only twenty-four hours to hunt down the killer. And this time, if she fails, she'll find herself embroiled in a war which could destroy everything she holds dear. . .
Review:
Finally, after almost a whole year waiting here is the next installment in the Kate Daniels series. There are only 5 or so 'long' series that I follow and this is one of those and probably my favourite one. My only problem is that there is whole year long waiting between books. It's a fantastic story but in this and the previous book I started to notice really small changes in the general direction of the plot, I don't say that these changes are bad just different. I'm curious where it's headed.
In the beginning of the series there were different main stories, what didn't really related and behind those run Kate own background story. Where Kate parentage and abilities were a bit hidden from the readers and gradually came to light through the first 5 book. I really liked those because there was a sense of mytery behind the whole, otherwise interesting, exciting and adventurous plot. However in the sixth installment everything became clear and started to focus on Kate mission, the one she got from Voron. This is true for Magic breaks, too. Don't get me wron I still love the series, mainly because of the characters and the world the story is playing, but between the pack politics and the problems with Kate father there is too much drama for me. It's still interesting and action packed but if you doesn't pay attention you can miss something importat and became a little confused in the end. I loved a bit more when Kate came and after a minimal investigating work, she fought her way through the bad guys. Beside this little detail story wise everything else stayed the way I love it or became better. Although I think the plot is bit rushed here and there and drawn out in the beginning but that can be easily overlooked.Oh and another thing, for some reason the writer duo started to use mor detailed retrospections, which I think is not necessary since anybody who wants to read the book will stast with the first and not the seventh.
Kate is my all time favourite female character.I love her personality, she is a real badass. Sure there are quite a few obstacle in her way and most of them pack related since she doesn't really know how to handle those problems, still her head is always held high and if it necessary she pulls her killer persona out and put everybody in their place. She has a hard and not quite friendly childhood, she became a trained killer and due to this she was a little emotionally closed of in the beginning. Well until Curran and Julie, sure she cared about people that she didn't show it. Since her family came into the picture however, Kate started to change. And in this book this change reached a whole new level. I would say that Kate shows the most emotion in here. In my opinion Kate character developed a lot and became more human . I just love her more.
Curran is still supporting Kate in everything she needs. Their love is really strong and beautiful. Unfortunately, he isn't present most of the book, I missed him really much. But when he is there he is one of the most caring and protective man, but he has a hard edge, if somebody gets in his way there is no telling what is gonna happen. I always liked him but after this book I absolutely love him. There is a huge and surprisisng decision on his part, which just strengthen his relationship with Kate.
There is a lot of surprise in this book, mostly from the pack side. They, as a whole, don't really like Kate, they don't think that she is a capable leader mainly because she isn't a shifter. And they show their disapproval every chance they get. Sure there are a few invidual, who know and suport Kate and I love them. One of my favourite character is Dreke from the very beginning. But in the last two book there was a lot of changes supportive charavcter wise, too. For example some of them took a whole one-eighty or just simply became irrevelant. Some of them dissapeared from the limelight. I miss Julie. Howeve I can't wait to see Hugh die. He transformed from the feared warlord to a maniac with an unhealty obsession with Kate. He just simply annoying.
In the end of the book we we can see a lot of surprises. There is a part in the plot I'm a little dissapointed in. I won't say in which because it plays a huge part in the whole but I expected a bit more from it. Especially based on the previous books. I'm dissapointed in the how but not in the outcome. I think it is a more acceptable than what I was expecting. I love how it turned out and can't wait for the next book. I got an absolutely fantastic, beautiful and magical story again.