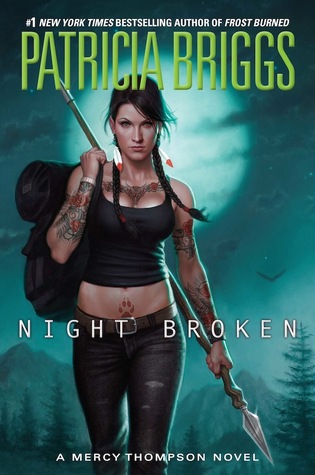 Series:
Mercedes Thompson #8
Publish:
March 11th 2014 by Ace
Format:
ebook, 352 pages
Rating:
5 / 5+
Synopsis: An unexpected phone call heralds a new challenge for Mercy. Her mate Adam's ex-wife is in trouble, on the run from her new boyfriend. Adam isn't the kind of man to turn away a person in need—and Mercy knows it. But with Christy holed up in Adam's house, Mercy can't shake the feeling that something about the situation isn't right.
Soon, her suspicions are confirmed when she learns that Christy has the farthest thing from good intentions. She wants Adam back and she's willing to do whatever it takes to make it happen, including turning Adam's pack against Mercy.
Mercy isn't about to step down without a fight, but there's a more dangerous threat circling. Christy's ex is more than a bad man—in fact, he may not be human at all. As the bodies start piling up, Mercy must put her personal troubles aside to face a creature with the power to tear her whole world apart.
Review:
I'm a hard core Mercy Thompson fan so it was a no brainer that I would read this book. But when I saw the cover and the synopsis .....well, that sealed the deal.
Night Broken is the eight installment in the fantastic Mercedes Thompson series. My favourite supernatural creatures are shifters and I have to admit that this book has one of the best shifter based world. Especially , since there are a lot of other creatures in it too, but the shifters still stay in the limelight. I love how the books discusse the other paranormal races problems, too but it is always the shifters, mainly Mercy who solves their problems. And the most interesting part in this series that there isn't an underlying thread, connection between the books, but every intsallment is about different story, still the books strongly fit together. Probably because of the excellente characters.
I really was looking forward to reading this book, I was curious about how Chrissy reappearence will distirbe the balance in the book. However, I'm a bit disappointed because I really expected more drama from it. I mean, Mercy simply doesn't react to anything that bitch does. She is the bigger person and all tis just evidence for the stability of her and Adam relationship, but still a girl can dream. Beside this little disturbance the first part of the book is little on the slow side, but interesting and gives the whole book a kind of intensity. I liked the plot and how things turned out at the end. There is everything in it that an incredible urban fantasy needs: excitement, a little mystery, romance, action and all of this merged together perfectly. And even there is a few new pieces from Mercy myterious history. There is a lot of original idea showcased in this book which makes it even more enjoyable to read it. Despite the fact that Night Broken is a bit slower than the other books in the series, it is one of the best, too.
Patricia Briggs contuines her phenomenal work with character developement, the already fantastic characters just became more and more detailed during the series. I love Mercy personality. She is far from perfect but willing to learn and work on her methods. She starts to learn more about the Pack politics, no matter how hard it is.She is really loyal, presistent, smart, quite confident in her capabilities and in this book she shows an incredible amount of restraint. I admire her self restrain but still hoped she is going to say enough is enough and pits Chrissy in her place.
Mercy and Adam are one of my favourite book couple, they somehow balance out each other and they have a really mature relationship. They support each other but Adam has a couple of really stupid decision in the book. These could have destroy them, fortunately their marriage is resilient enough.
There is a lot of surprise from the the secondary characters, too. Firts there is Chrissy, who is quite the annoying and selfish bitch, still almost everyone supported her opposed to Mercy. Her presence just undermined Mercy authority even more. However Honey surprised me in a good way.
In the end everything back to normal and Mercy prived her strenght in every way. This book is a bit more relationship based and more emotional than the others but worth the time. The only problem it is another year before the nex installment.